Dear Diary,
I am so excited to go to Andrew's house. Before we got there we had a fun time at recess. First I met Andrew's brother Dominic. He is really nice. We played handball and I played the iPad. His teacher was Mr Freeburn and I saw Leo was in his class. Leo hugged me again and people wouldn't stop sneaking touches and pats of me when Andrew wasn't looking. We had to do some singing for carols which is a Christmas thing for the school. We went home and read my favourite book, Pig the Pug. It is so awesome!  We read my diary and Andrew had a shower. When Andrew was in the shower I talked to his Teddys, Ginggy and Rudolph. Rudolph has a red nose and  Ginggy is a gingerbread man. After Andrew got out of the shower we had afternoon tea. I had water and Kristen, Andrew's mum, makes him and his brothers a smoothie.
Dear Diary,
My new song,
Woof! Wooooof!
This is gonna be the best time of my life, my li-l–ife,
Woof! Wooooof
This is gonna be the best time of my li-l-ife,
Woof! Woof! A Whoo!
Dear Diary,
We stopped a bit early because Andrew's mum had to do dishes. His mum wasn't ready for the carols yet and we weren't allowed to read Andrew's book yet. Once we arrived at the carols Andrew's mum said I couldn't play with him so I had to stay behind. As I said before Andrew's mum's name is Kristen and she didn't do anything fun. When Andrew was singing I was on stage with him. We also got a photo with Santa Claus. I realised that Santa was actually Mr Carter. We had to go back to Andrew's house after the photo. Andrew got into his pyjamas and I had to close my eyes because Andrew had I a surprise. I was excited because I love surprises. I've been excited ever since I got to meet Andrew. When I opened my eyes Andrew had made me a bed out of a washing basket, a pillow and my blanket.
Dear Diary,
Today we didn' t do much because of his mum saying no. We mostly watched  a movie but we did a bit of reading and craft. The craft was for teachers Christmas presents. Boo Hoo! Porridge for dinner and breakfast.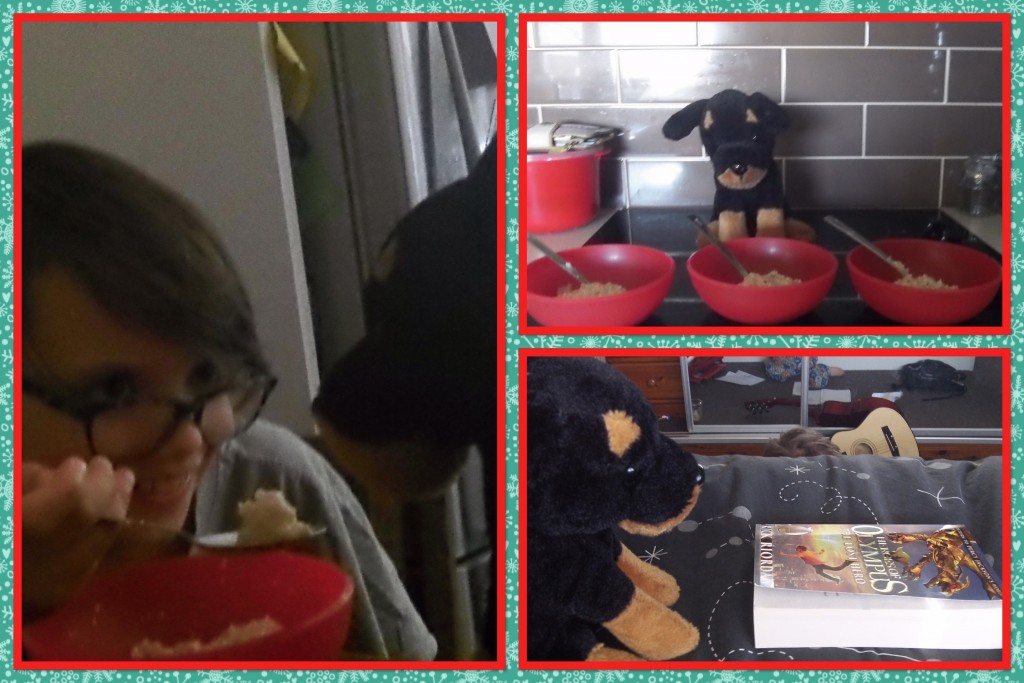 Dear Diary,
I will miss Andrew very much over the holidays but I still had a great day yesterday. The main thing, and the best thing was reading. We read a lot. The book we read was Heroes of Olympus: the lost hero. We watched the first and second Santa Claus movies. Awesome! I wonder if anything can beat this?