Dear Diary,
Ching! The money hit the container. Ofa, Elenoa and I got stamps on our hands and paw and entered the disco. I got to meet and greet some of Elenoa's friends. We took some pictures and pounced into the hall. The lights switched off and the music started. The disco had begun.
Firstly we played hula hoop games. Eleanoa told me a secret. (She isn't a good hula hooper.) You got a lollie if you tried to hula hoop. I did it the easy way. I jumped through the hoops! We got heaps of prizes from winning games. Secondly we did limbo. I easily made it. I played dead and got a lollie. It was fun and every time Elenoa went, she made it too. Thirdly we did cards. Each student leader had a card, diamonds, hearts, clubs, spades. They played the music for a little while then when the music stopped everyone sprinted after one of the cards. DJ Manning then picked a card and everyone got out from the card he picked.
Everyone loved dancing, lollies and trampolines. I got tapped on the paw and I got to jump on the trampoline. I also got heaps of lollies for being the best dog dancer in the house. I had photos and selfies with everyone everywhere. Elenoa and I danced every single dance there was with the smile never peeling off our faces.
EIn the middle of the nutbush Elenoa's dad arrived and I snuggled in my warm bag. It was an exhausting night that was awesome, maybe my #1 favourite time ever! After that we walked home. We had a yummy pineapple salad and I was also showed a delicious new drink. It's called Kombucha and it is A-MAZE-ING!
Bye til next time, BD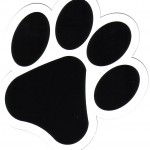 BD not only stands for Blog Dog, but also Best Dancer. Well best dog dancer anyway.