I'm still in the Sunshine State. Can you use the clues to discover the two places I visited today? If you look very closely at one of the photos it contains a huge clue to where I am.
Location 1: The bush
This small town is located in the Sunshine Coast hinterland, 118 km north of Brisbane.
The population is 1,924 according to 2011 census data.
Former Prime Minister Kevin Rudd grew up on a dairy farm here until the age of 11. Following the death of his father the family were forced to move for financial reasons.
Australian tennis champion Pat Rafter also went to primary school here.
The first place we visited was a HUGE book shop called the Berkelouw Book Barn. Mrs Riding discovered this bookshop by accident in 2015 and she couldn't wait for the opportunity to visit again.
She bought Anthony a book called How to tell if your cat is plotting to kill you. It's pretty funny. I don't think he has anything to worry about with Hercules though.
After spending what seemed like hours in the bookshop it was time for some fun in the park. The second ride was a bit wobbly and I fell off twice.
Location 2: The beach
This beachside town is a really popular tourist destination.
It is located 136km north of Brisbane.
The population is 3,999 according to 2011 census data.
It has one of Australia's only east coast north facing beaches so it's protected from onshore winds and storms.
The headland is a National Park with an amazing walking track that hugs the coast and passes places with names like Boiling Pot, Dolphin Point, Hell's Gate and the Devil's Kitchen.
The first thing we did was cool off in the river.
I went exploring in the park while Mrs Riding relaxed under a shady tree with a book.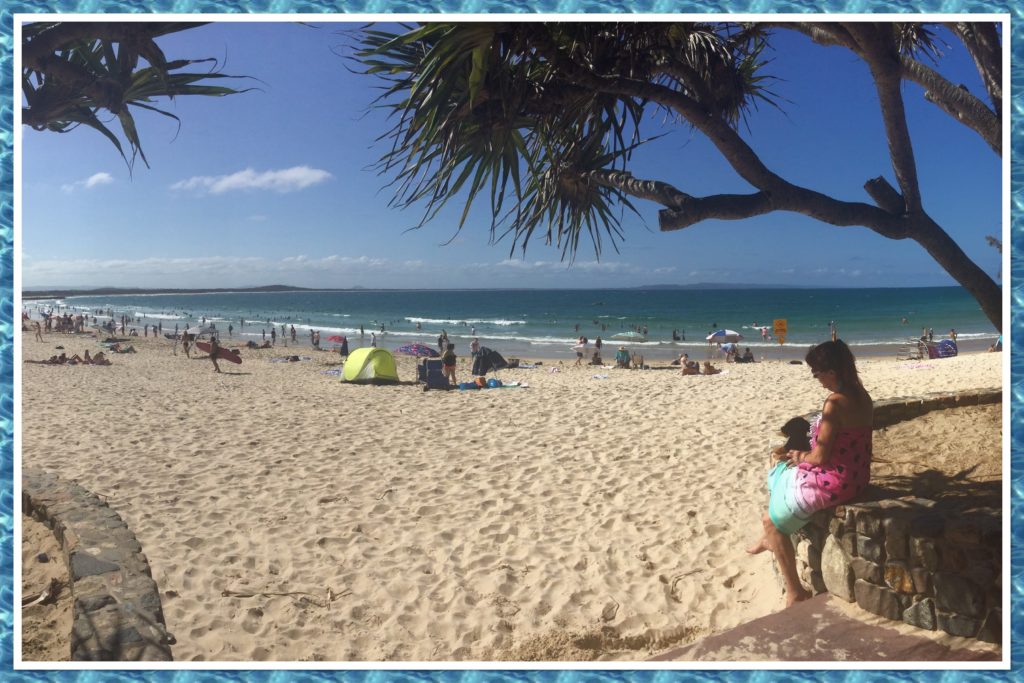 After a tasty lunch in Hasting street it was off to Main Beach.
I kept Anthony company while Mrs Riding went for a swim.
It was another fun day out. Can you use the clues to discover the two places we went today?